Main content starts here, tab to start navigating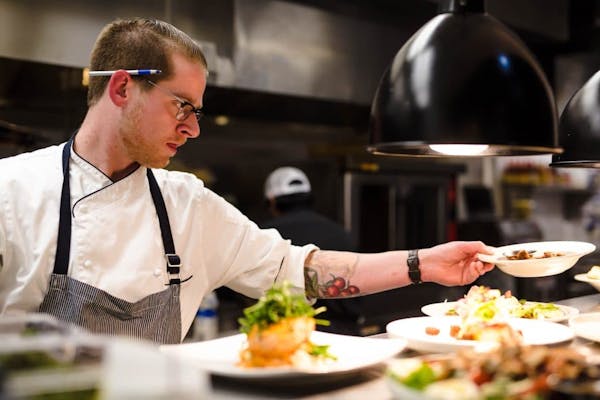 Chef Mike Watson
Executive Chef
Chef Mike Watson is a Jacksonville, FL native and one of five kids. His culinary career began at the age of 16 as a prep cook at Bistro AIX in Jacksonville, FL under James Beard award nominee Chef Tom Gray. Those years sparked his passion for culinary arts and defined his career ambitions. Upon high school graduation, Watson moved to Charlotte, NC to pursue his Associates Degree in Applied Science and Culinary Arts at Johnson and Wales University.
While completing his education, Watson completed an internship under Chef Rob Lamb in San Francisco, growing his skill set through exposure to Californian Pan-Asian cuisine. Watson returned to Charlotte and completed two Bachelor's Degrees at JWU (Food Service Management and Beverage Appreciation). Watson was then selected to enroll at the Providence, RI campus of JWU to pursue his MBA. While in Providence, Watson oversaw the operations of a 200-seat dining facility and acted as the private chef for the campus president.
Post-graduation, Chef Watson was appointed as the restaurant chef of the Libations Restaurant & Lounge, where he began to create a reputation for providing delicious creations focusing on fresh, local, and seasonal ingredients. Chef Watson moved back to Charlotte in 2015 to grow the Libations brand by opening the second location, Libations Kitchen & Bar in Uptown Charlotte, located in Hilton's DoubleTree Hotel, adjacent to the JWU campus. Chef Watson was the first chef in a DoubleTree location, and one of the few Hilton chefs in their brand given full creative control of menu creation and ingredients. In 2016, Libations was awarded a top ranking by Restaurant.com diners and has been recognized multiple times in Charlotte publications. Chef Watson was also the recipient of the JWU Eye on Five award in 2017, recognized for his success and accomplishments in the industry. During the 2018's Taste of Charlotte event, Chef Watson won the "best entrée" award amongst the 100+ vendors serving over 150,000 people during a three day period.
Chef Watson is excited to elevate his culinary career with 44 Mills Kitchen & Tap. The menu has been refined to feature seasonal & regional products used to create American recipes with influences of the new South. The guest experience in 44 Mills will be one of "dining ceremoniously" to celebrate the simple pleasures of sharing good food, good drink, and good friends.